Creating Web Clip Widgets
L
eopard makes it easy to create a Dashboard widget from a segment of a web page. For example, you can capture a "new releases" list from a media website, or the "latest posts" field from an Internet discussion group. These Web Clips appear, automatically updated, whenever you open Dashboard.

Here's an example, using www.macmusic.org, a cool music software website. We navigated to their home page in Safari and clicked the Web Clip button (next to the address field).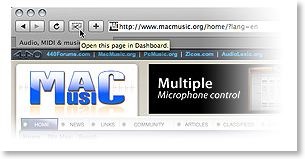 The entire page darkens save for a bright rectangle. Drag the rectangle from its center and edges until it covers the segment you want to capture. Then click Add and Safari sends your Web Clip to Dashboard.

(If Safari doesn't display the Web Clip button, choose Customize Toolbar in Safari's View menu and add the button to Safari's toolbar.)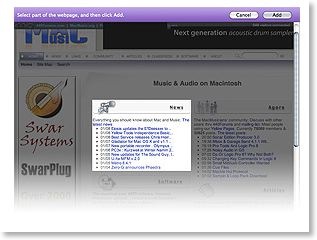 Now the Web Clip appears as a new widget in Dashboard. You can still edit it: Move your cursor over the widget's lower-right corner until a small letter i appears. Click it to resize or reposition the content, or customize its border using built-in styles.