W
hen you connect an Apple Cinema Display (30-inch DVI) to a Power Mac G5 or Mac Pro, you may find that the highest available resolution is 1280 x 800, even though the optimum resolution for the display is 2560 x 1600. The maximum resolution available when this display is connected to a single-link DVI port is 1280 x 800 - you must connect the display to a dual-link DVI port in order to access the higher resolutions available to the display.

If this occurs, make sure that you are using a compatible video card for the display, and are connected to a dual-link DVI port on the card. Compatible video cards must include a dual-link DVI port. Refer to the table below for video cards compatibility: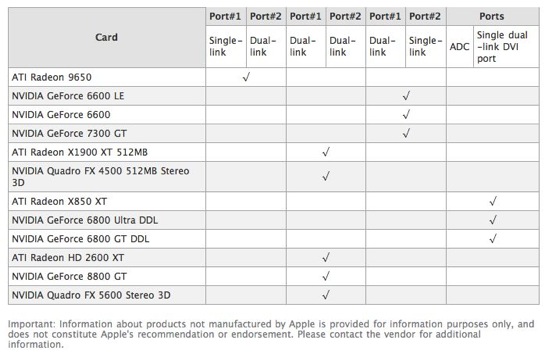 Jan. 10, 2008 @ 05:53 PM Filed in:
Apple
Fastest Mac Ever—Eight Processor Cores Standard


CUPERTINO, California—January 8, 2008—

A
pple® today introduced the new Mac® Pro with eight processor cores and a new system architecture that delivers up to twice the performance of its predecessor*. The new Mac Pro combines two of Intel's new 45 nanometer Quad-Core Xeon processors running up to 3.2 GHz, powerful new graphics and up to 4TB of internal storage to offer the ideal system for creative professionals, 3D digital content creators and scientists. The standard 8-core configuration starts at just $2,799.

"The new Mac Pro is the fastest Mac we've ever made," said Philip Schiller, Apple's senior vice president of Worldwide Product Marketing. "With 3.2 GHz 8-core Xeon processing, a 1600 MHz front side bus and 800 MHz memory, the new Mac Pro uses the fastest Intel Xeon architecture on the market." Read More...
Apple's latest desktop proves itself a winner in design, performance and flexibility.

Nov. 16, 2006 By Richard Hoffman - Courtesy of InformationWeek


A
fter two weeks with one of the new Mac Pro desktops, I've got only one word: "Wow. The new Apple Mac Pro desktop is one of the best-designed, highly-performing desktops currently available at any price. Not only does it run Mac OS X and OS X applications at absolutely blazing speeds, but if you install Parallels Desktop for Mac (or Apple's Boot Camp), the Mac Pro makes a better Windows workstation than almost any other Windows desktop out there.
Read More...