Steve Jobs

February 6, 2007


W
ith the stunning global success of Apple's iPod music player and iTunes online music store, some have called for Apple to "open" the digital rights management (DRM) system that Apple uses to protect its music against theft, so that music purchased from iTunes can be played on digital devices purchased from other companies, and protected music purchased from other online music stores can play on iPods. Let's examine the current situation and how we got here, then look at three possible alternatives for the future.
Read More...
Apple Teams Up With Ford, General Motors & Mazda
To Deliver Seamless iPod Integration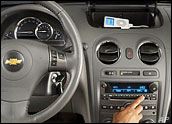 Over 70 Percent of New Automobiles in US Will Offer iPod Integration in 2007
CUPERTINO, California - August 3, 2006 -

A
pple® today announced it has teamed up with Ford Motor Company, General Motors and Mazda to deliver seamless iPod® integration across the majority of their brands and models, making it easy for iPod users to enjoy and control their iPod's high-quality sound through their car's stereo system. With the addition of these models, more than 70 percent of 2007-model US automobiles will offer iPod integration.
Read More...