Apr. 29, 2007 @ 03:48 PM Filed in:
Mac Tips
This tip describes how Mac users with portable computers running Mac OS X 10.4.x or later can determine the number of cycles on a battery.
Open Apple System Profiler (Choose About this Mac from the Apple menu and then click on the More Info button).
Click Power in the Contents list (under the Hardware section as seen below).
Cycle Count is listed under the Battery Information section.



Notes


A properly maintained Apple notebook battery is designed to retain up to 80 percent of its original capacity after 300 full charge and discharge cycles.

A charge cycle means using all of the battery's power, but that doesn't necessarily mean a single charge. For instance, you could use your notebook for an hour or more one day, using half its power, and then recharge it fully. If you did the same thing the next day, it would count as one charge cycle, not two, so you may take several days to complete a cycle.
Apr. 11, 2007 @ 08:13 AM Filed in:
Mac Tips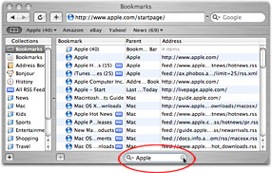 If you're trying to search for a particular bookmark, you'll want to know this trick: First, click on the Show All Bookmarks icon in the top-left corner of the Bookmarks Bar. Doing this makes the Collections column visible on the left side of Safari, but more importantly, it adds a Search field at the bottom center of the Safari window. When you type search terms in this field, it searches just within your bookmarks, so you get super-fast results.

CUP
ERTINO, California and LONDON—

A
pple® Inc. and The Beatles' company Apple Corps Ltd. are pleased to announce the parties have entered into a new agreement concerning the use of the name "Apple" and apple logos which replaces their 1991 Agreement. Under this new agreement, Apple Inc. will own all of the trademarks related to "Apple" and will license certain of those trademarks back to Apple Corps for their continued use. In addition, the ongoing trademark lawsuit between the companies will end, with each party bearing its own legal costs, and Apple Inc. will continue using its name and logos on iTunes®. The terms of settlement are confidential.

Commenting on the settlement, Steve Jobs, Apple's CEO said, "We love the Beatles, and it has been painful being at odds with them over these trademarks. It feels great to resolve this in a positive manner, and in a way that should remove the potential of further disagreements in the future."


Commenting on the settlement on behalf of the shareholders of Apple Corps, Neil Aspinall, manager of Apple Corps said, "It is great to put this dispute behind us and move on. The years ahead are going to be very exciting times for us. We wish Apple Inc. every success and look forward to many years of peaceful co-operation with them."

Steve Jobs

February 6, 2007


W
ith the stunning global success of Apple's iPod music player and iTunes online music store, some have called for Apple to "open" the digital rights management (DRM) system that Apple uses to protect its music against theft, so that music purchased from iTunes can be played on digital devices purchased from other companies, and protected music purchased from other online music stores can play on iPods. Let's examine the current situation and how we got here, then look at three possible alternatives for the future.
Read More...
Jan. 12, 2007 @ 03:07 PM Filed in:
Mac Tips
From our friends at
DriveSavers.

Cold weather can wreak havoc on temperature-sensitive drives inside computer games, portable music devices and digital cameras. Condensation and expanding components can lead to drive failure and data loss. If you leave any such items in the car overnight, be sure to let it sit at room temperature for 8-10 hours before powering up!
Jan. 02, 2007 @ 08:12 PM Filed in:
Mac Tips
Closing an application window, thinking it has quit.

Downloading an app and running it from the disk image.

Creating endless untitled folders.

Using Safari's Google search to get to a website.

Confusing the concept of wallpaper with screensaver.
Read More...
Jan. 02, 2007 @ 06:40 PM Filed in:
Mac Tips
What version(s) of Mac OS X are included with Intel-based Macs?


Important
:
You cannot normally use a Mac OS version
earlier than the one included with the computer.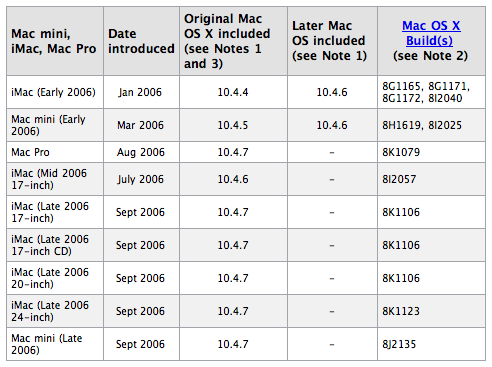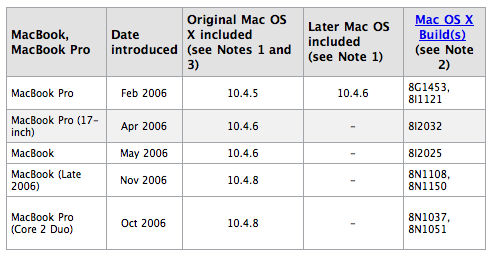 Notes



"Some computers shipped with different Mac OS X versions at different times. When a computer was not bundled with a later version, a "-" appears in the "Later Mac OS included" column.




The build information is available in the About This Mac window.




Some Macs may include a slightly later build version (but same numbered version) of Mac OS X on the Install or Restore discs than was preinstalled on the computer.
Jan. 02, 2007 @ 06:28 PM Filed in:
Mac Tips
Learn about build versions, such as "Build 8L127," which appear in the About This Mac window and System Profiler.


The build version you see depends on the version of Mac OS X that you have installed. The version changes when you use the Software Update feature to update core system software.