Protect Those Precious Memories
Jun. 13, 2007 @ 06:47 AM Filed in:
Mac Tips

Protect Those Precious Memories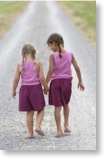 As more people embrace the convenience of digital cameras, the potential for losing irreplaceable images continues to rise. Here are six safety tips to help protect those precious memories:
Transfer images from the camera and/or memory card onto CDs, DVDs or an external hard drive. Do this as soon as you've finished your picture taking session.

Don't delete or reformat the memory card until all photos have been transferred and verified.
Follow the instructions for removing the memory card from the camera or card reader connected to the computer to avoid deleting or corrupting photo images.
Protect your memory card from static buildup or breakage by using a sturdy container when carrying the memory card around.
Replace your memory card when necessary. After an average of 1,000 uses, the card can begin to wear out.
Avoid extreme temperatures. Heat, cold and humidity can wreak havoc with all digital equipment, especially memory cards.
If you delete an image or images, get an error message or are unable to view images from the card, give us a call. Emc2 Computer Solutions is an authorized DriverSavers partner. DriveSavers was the first company to provide data recovery on digital camera flash memory cards, and remains the most successful!