How to clean your Mighty Mouse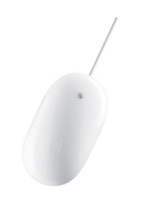 I
f your Mighty Mouse is covered in fingerprints or its surface has become soiled, it can be gently wiped with a clean lint-free cloth. If necessary, moisten the cloth using only water, making sure not to over saturate it. Be aware that the mouse contains electronic components that may be damaged if water drips from the cloth into the mouse via the seam around the scroll ball or around its underside.

The same procedure can be used to clean the scroll ball on your Mighty Mouse if it has become discolored or dirty. Use a clean lint-free cloth lightly moistened with water. Wipe the ball and the surrounding area, making sure to rotate the ball itself to ensure complete coverage. If the scrolling feels rough or if the scroll ball isn't scrolling up, down, or side-to-side, hold the mouse upside-down and roll the ball vigorously while cleaning it to help dislodge any particles that may have collected on the internal hardware.

For a video demonstration, click here.